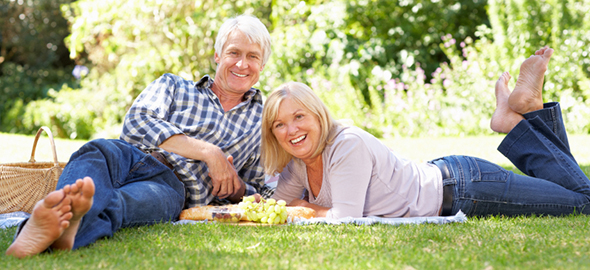 Nutrition for Healthy Aging
Nutrition for Healthy Aging
Older adults in the United States are living longer, healthier and more active lives than ever before. The Vermont Academy of Nutrition and Dietetics strives to provide comprehensive nutrition care to support healthy aging amongst older Vermonters by emphasizing healthy lifestyles and disease management. Access to nutritious food, physical activity, and supportive care are vital for older adults to minimize the effects of chronic conditions and ensure optimal health. Listed below are local and national resources aimed towards older adult health and wellness.
Nutrition Resources:
General Nutrition Info: http://www.eatright.org/Public/content.aspx?id=6839
As an older adult, there are specific nutrients that your body needs to maintain optimal health. This page briefly covers each important nutrient so you know what to look for.
Fiber: http://www.eatright.org/Public/content.aspx?id=6442478886
Dietary fiber helps you control cholesterol and weight, as well as promote healthy digestion. This website includes more information about the importance of fiber, and which foods to include in your diet.
Calcium and Vitamin D: http://nihseniorhealth.gov/falls/bonehealth/01.html Calcium and vitamin D work together to build and protect bones. To learn how to get enough of each in your diet, follow the link.
Putting It All Together: http://nihseniorhealth.gov/eatingwellasyougetolder/choosenutrientdensefoods/01.html
One of the best ways you can protect your health as you age is through eating a variety of healthy foods, including colorful fruits and vegetables, whole grains, and high quality protein. This guide outlines the key nutrients for older adult health. It also answerscommon questions about nutrients and provides practical tips for boosting the nutrient content of your diet.
Physical Activity
Getting Started: http://nihseniorhealth.gov/exerciseforolderadults/benefitsforeverydaylife/01.html
Physical activity is not just for athletes; it is for everyone. Regular activity can improve your wellbeing in many ways! It can help you stay independent, mobile, and energetic. Read more to find out which types of activity can fit your lifestyle. Follow the links on the sidebar to learn "how to get started", "exercises to try", and "how to stay active."
Guidelines: http://www.cdc.gov/physicalactivity/everyone/guidelines/olderadults.html These physical activity guidelines have been shown to promote optimal health for older adults. Learn about aerobic and muscle-strengthening activities and how to include these throughout the day.
Changing Your Routine: http://www.cdc.gov/physicalactivity/everyone/getactive/olderadults.html This page outlines how being physically active in older adulthood is beneficial, regardless of pre-existing physical or health conditions. Find how to add physical activity into your daily routine in a way that works best for you.
Overcoming Obstacles: http://www.cdc.gov/physicalactivity/everyone/getactive/barriers.html Adding physical activity to your daily routine may seem like a big undertaking. But it doesn't have to be. This page walks through a variety of barriers that commonly hold back older adults from the enjoyment of being physically active, and it gives strategies for overcoming these obstacles.
Exercise Guide:http://www.nia.nih.gov/sites/default/files/exercise-guide.pdf This guide walks you through everything you need to know to make physical activity fit your lifestyle. It focuses on four types of activities that support your health: endurance, strength, balance, and flexibility; complete with practical examples and helpful tips for safety. A section on setting realistic goals will help cater these activities to your lifestyle. The benefits are numerous! Follow the link to explore this valuable resource.
Falls Prevention Clinic at UVM Medical Center: https://www.uvmhealth.org/medcenter/Pages/Departments-and-Programs/Fall-Prevention.aspx
Want to know the risk factors for increased falls? Would you like to know how you can prevent falls? Contact the Falls Prevention Clinic at UVM Medical Center to learn how you can protect your health.
Fluids & Hydration
Importance of Hydration: http://www.partnersinseniorcare.com/resources/CareConnectorFiles/HydrationforSeniors.pdf Why is hydration especially important for older adults? This resource shows how drinking water protects your health, and how to identify if you are getting enough fluids.
Tips to Stay Hydrated: https://www.unce.unr.edu/publications/files/hn/other/fs9930.pdf Staying hydrated is important for overall health, but it can be easy to forget to drink enough fluids. Learn how to stay hydrated even when you don't feel thirsty. If you are worried about bladder control, see how you can stay hydrated without having to worry about frequent bathroom trips.
Bone Health
General Bone Health Info: http://www.americanbonehealth.org This website provides a community approach to providing education, resources, and tools to help individuals understand bone disease and bone health. Their mission is to provide accurate bone health information that supports strong and healthy bones and may prevent osteoporosis fractures.
Bone Disease Resource Center: http://www.niams.nih.gov/Health_Info/Bone/ This site provides a range of information, covering topics from bone basics to bone specifics for all ages. This organization provides resources to patients, health professionals, and the general public information regarding bone health and emerging research.
Support Group: http://www.betterbonesnek.org Better Bones of the Northeast Kingdom is a support group that provides a forum of support for those living with osteoporosis. They also strive to educate the public about osteoporosis prevention and treatment. Whether you are diagnosed with osteoporosis or osteopenia, have a loved one living with the disease, or wish to learn more, monthly meetings are open and free to the public.
Planning Meals for One
Cooking Tips for One or Two: http://www.eatright.org/Public/content.aspx?id=6442477582 This brief article takes you step-by-step through the meal planning process. Planning a meal for one or two does not mean it has to lack creativity or flavor!
Sample Menu: http://healthvermont.gov/eatforhealth/meals.aspx This Vermont Department of Health webpage provides a sample menu of one week's worth of breakfasts, lunches, and dinners. The meals are simple and easy to prepare.
Food and Nutrition Assistance Programs
Senior Farmers' Market Nutrition Program & Senior Farm Share Program: http://ddas.vermont.gov/ddas-programs/programs-food-nutrition/programs-food-nutrition-sfmnp
http://nofavt.org/programs/farm-share/senior-farm-share-program
The Senior Farmers' Market Nutrition Program (SFMNP) allows eligible, low-income older adults to receive fresh, locally grown produce from Vermont farmers markets or a weekly farm share from community supported agriculture (CSA) farms.
Older Adult Nutrition Programs: http://www.dail.vermont.gov/dail-programs/dail-programs-providers/dail-providers-list-aaa/dail-aaa-providers-default-page This links you to your local Area Agency on Aging. From the website, choose the agency location closest to where you live to get more information on how to receive home delivered meals or participate in local community meals.
3 Squares VT: http://dcf.vermont.gov/esd/3SquaresVT/60plus 3SquaresVT, also known as the Supplemental Nutrition Assistance Program, is a federally funded program that helps you purchase additional foods throughout the month.
Commodity Supplemental Food Program: http://www.fns.usda.gov/csfp/commodity-supplemental-food-program-csfp This federal program provides low-income individuals at least 60 years of age or older with nutritious food to supplement their diet.
Senior Helpline: 1-800-642-5119 Call this number to speak with friendly staff who will help you answer questions on a variety of topics, such as meals, transportation, case management, etc.